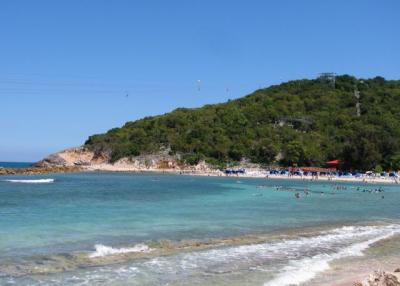 Adrenaline Beach, located near the city's town square, offers the opportunity for cruise passengers to play several sports, including beach volleyball, basketball and soccer. The beach is also home to the Dragon's Tail coaster, which offers a scenic view of the island and beaches at 30 miles per hour.
Offering a more secluded beach experience, Adrenaline Beach generally has the least guests because it is the furthest beach from the ship and has no water toys. Unlike nearby Dragon Tail Beach, there are no barrier rocks to block the ocean so the surf here can be stronger. As such, Royal Caribbean lists this beach more for sunbathing than swimming.
Loungers and sun shelters are available for rent.