There are 20 cabanas available for a daily rental fee at the Barefoot Beach Club. Each cabana can accommodate 4-5 guests comfortably. While each cabana is the same in size, amenities and services offered, there are four different types with associated prices depending on location.
4 overwater cabanas
2 waterfront cabanas
5 hilltop cabanas
9 palm cabanas

Included in the daily cabana rental fee are the following additional amenities and services:
Private space to relax in comfort, complete with luxurious resort furniture and a fan
Dedicated cabana attendant service
Complimentary bottled water
Complimentary floating mats and snorkeling equipment
Exclusive Barefoot Beach Club beverage menu (prices charged accordingly)
Upgraded lunch menu at private BBQ facility

Reservations
The cabanas are available for reservation onboard through the Concierge or Guest Services Manager on a first-come, first-serve basis. Please note there is limited availability.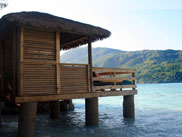 Overwater Cabanas

These cabanas are in a premium location above the sea with direct access to the water and beach.



Note: These cabanas are not wheelchair accessible, and guests will need to walk in the water and up the stairs to get to the cabana.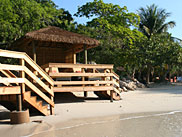 Waterfront Cabanas

These cabanas are next to the beach at the water's edge with full views of the bay.



Note: These cabanas are not wheelchair accessible. However, guests with limited mobility may access.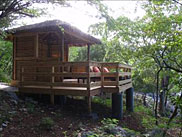 Hilltop Cabanas

These cabanas offer breathtaking views of Labadee and the ship, providing excellent picture opportunities and a quiet environment to relax away from the crowd. These are our most private cabanas.



Note: These cabanas are not wheelchair accessible, and guests need to climb a full flight of stairs to gain access.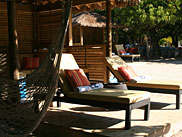 Palm Cabanas

These cabanas are on the main part of the beach, surrounded by palm trees and hammocks. They are ideal for guests who desire easy access to the beach and other activities in Labadee.



Note: These cabanas are wheelchair accessible. Guests will need to able to climb two steps.